Well-Known Member
Reaction score: 27
Messages: 355
Does anyone know any good brand and model of laptop to use with FreeBSD? I mean, it's already got a battery and everything, you can find them cheap used, you can shove them in a mini fridge... with USB3 and eSATA, like... why not?
Hardware is sometimes hit and miss... chipsets, controllers, etc. are often made by the lowest bidder, and they're often not entirely supported by the FreeBSD kernel.
Do you have a recommended brand and model of laptop to use with FreeBSD? Any you know with dual ethernet? What about USB2 and USB3 ethernet adapters? PC/EC card adapters?
Experience, tips, hints, warnings?
This is a bit of a digression and may evolve into a separate thread, but what about 802.11 APs? I just have 0 experience with actual, standalone APs, just routers with radios and antennas... I guess an AP's just a radio and an antenna that you hook-up to your ethernet adapter, it's on the physical layer, but idk, I'm just kinda throwing this out there...
I'm asking because I have good downstream internet (200+ mibps), but my router just can't handle it over dual band N, and some devices connected to 2.4 GHz restrict it to single band, and ... it's just a nightmare to have all the junk I have connected to it, and then I have the Xbox that ends-up with a 30 ms ping and 75 mibps downloads (yes, i'm a kid, i play video games).
I want to get the Asus RT-AC5300 (picture related) (if you say you don't want one you're either lying or closeted), but the space station comes with a fairly high price tag that could be comparable to a used laptop, APs, and the fun factor could largely be compensated for and maybe even largely exceeded by the fact that it's actually a legit fbsd gateway with APs...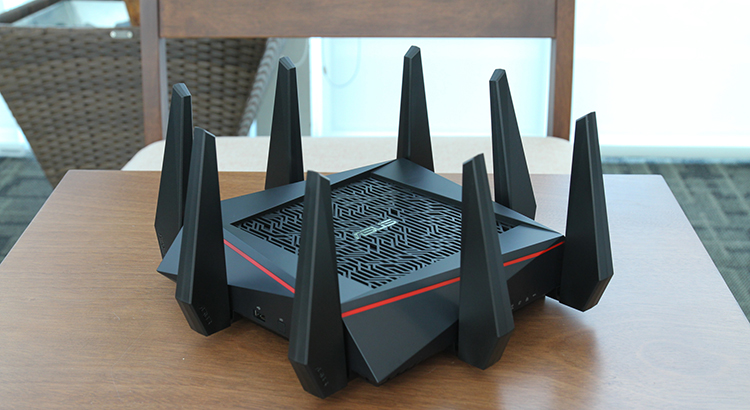 What would you do? Would you pay $400.00 for the space station, or get a laptop, APs, and build your space station from the inside out?